As mentioned in previous blog post, Shopee Facial Serum category has grown 39.9% from Q1 to Q2 2022 with the market share breakdown as shown in the chart below:
Scarlett had the greatest market share for the first half of 2022 with 11.7%, Somethinc at the 2nd position with 8.8% and at 3rd place is MS Glow with 7.6% market share. The market share shows that local brands are dominating. The highest performing international brand, Garnier, only ranks in 6th place for market share performance.
We want to know which product delivered the most contribution for each top 3 brands, so we zoom in to the detail of the data, and here are the lists of Top SKU for each brand:
Here is the product link for each SKU:
1. Scarlett Whitening Brightly Ever After Package Limited Edition
2. SOMETHINC 5% Niacinamide + Moisture Sabi Beet
3. MS GLOW Deep Treatment Essence
There is an interesting analysis from the growth perspective. As mentioned before, Facial Serum growth from Q1 to Q2 2022 is 39.9%, but from the top 5 brands, only one brand was growing above the market growth, which is Avoskin, with 56.9% growth.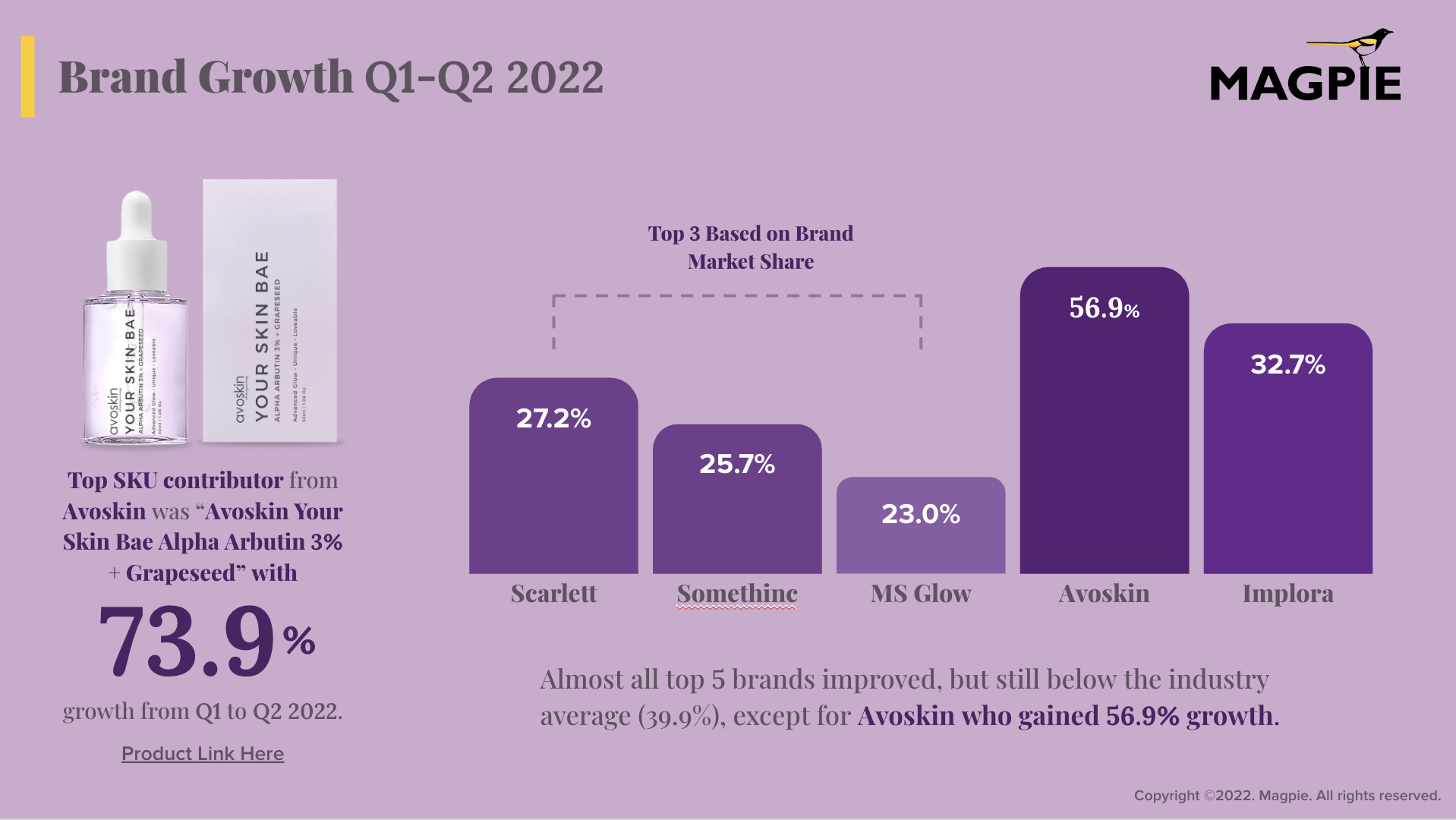 Let's zoom in to the data and we get Avoskin Your Skin Bae Alpha Arbutin 3% + Grapeseed is the top SKU contributor for Avoskin with 73.9% Q1 to Q2 2022 growth.
Want to know your brand's or your competitor's performance? Contact us now!
Methodology and Scope:
Data is collected from Shopee public data qty sold and price
GMV estimation is calculated by multiplying qty sold vs price at a daily basis. There is a slight data deviation from price changes that are not recorded between snapshots.
Facial Serum category that covered in this report is collected from subcategory "Perawatan & Kecantikan > Perawatan Wajah > Serum & Essence Wajah"
The total SKU collected is 257,189 SKUs from 18,904 merchant
Data collection period: 1 January - 30 June 2022
Data cleansing is applied to remove irrelevant SKUs such as GIFT SKU and bulk SKU bundles for distributors.