Refrigerator, an essential electrical kitchen appliance, is on the rise. While COVID-19 impacts most industries, the refrigerator industry seems to be growing. People are forced to dine at home because of pandemic regulations and restrictions, resulting in a rise in stocking-up groceries and foods in the refrigerator.
According to Statista, Refrigerator generated US$ 3.34 billion revenue in 2019. It reached the highest growth in 2020 with 11.3% and in 2021 with 7.5%. The market is also predicted to grow by 5.25% per year (CAGR 2022-2027).
The refrigerator market size in January - June 2022 period is IDR 307.58 Billion with 103.79 thousand units sold In Q2, the market exhibits an increase of 21.92% compared to Q1. The market has a surge in March and reaches a peak in April, although followed by a decrease in May.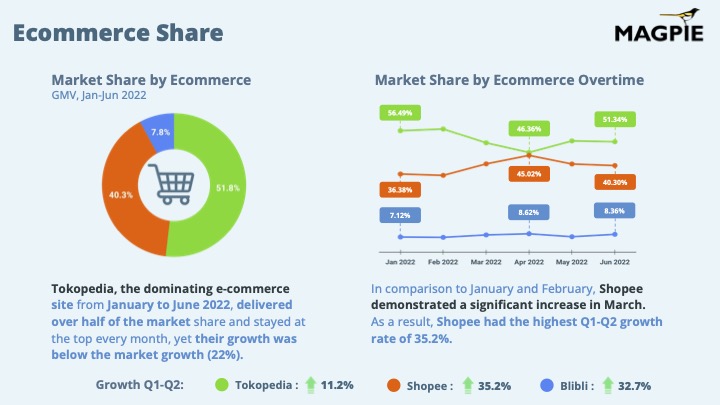 Tokopedia dominates the market and Shopee catching up at April 2022.
Aqua and Sharp lead the market with a quite similar market share, fighting for the 1st rank from January to June 2022.
Aqua leads the market overall e-commerce with more balance transactions across the three e-commerce. Meanwhile, Gea focused only in Tokopedia and LG on Blibli.
What is the top SKU performance in e-commerce, and how is the brand's growth compared to the market growth? Get a FREE full report about Refrigerator Insight here.
Want to know your brand's performance? Contact us now!
Methodology and Scope:
Data is collected from Tokopedia, Shopee, and Blibli public data of quantity sold and price.
Total product type collected is 1,281 types from 4,596 merchants.
Data collection period: 1 January - 30 June 2022.
GMV estimation is calculated by multiplying the quantity sold and price on a daily basis. There is a slight data deviation from price changes that are not recorded between snapshots.
Data cleansing is applied to remove refrigerator spare parts.
Refrigerator category covered in this report is collected from sub-category:
Tokopedia : "Elektronik > Elektronik Dapur > Kulkas"
Shopee : "Elektronik > Perangkat Dapur > Kulkas"
Blibli: "Peralatan Elektronik > Kulkas, Chiller & Freezer"